Canada-based vegan fast-food restaurant Globally Local is opening their second diner in Ontario this June.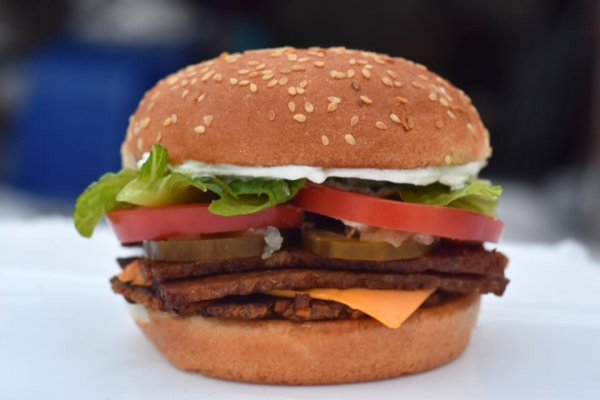 "We are beyond excited to announce the launch of our second fast food restaurant - located at a former Harvey's on Highbury and Cheapside in London, Ontario. Our new location features seating for 120 people, lots of free parking, 24/7 high-tech drive thru, huge infrastructure for quick service, easy access to buses and a very short distance from Fanshawe and UWO. This location will allow us to develop a model that we plan to take global and change the fast food industry forever. The revolution starts June 2017! If you haven't tried our food yet, you can visit us at our downtown location at 252 Dundas St., London ON, open daily 8am-10pm."
Notable menu items will be vegan takes on fast-food classics including Famous Burger (a Big Mac-like burger), Vegan Vopper (a take on Burger King's Whopper), a seitan-based Crispy Chikun sandwich, and an entire breakfast sandwich menu. Globally Local will also serve a kids menu featuring the Grilled Gary — a vegan grilled cheese sandwich that's a nod to last year's popular internet meme that proposed vegan cheese be called "Gary."
Owner James McInnes told VegNews that the new restaurant will replace a closed location of popular Canadian fast-food chain Harvey's and will serve a similar menu to Globally Local's existing restaurant in London, Ontario.
By serving delicious cruelty-free food, their first restaurant is even convincing meat-lovers there's no reason left to keep eating meat: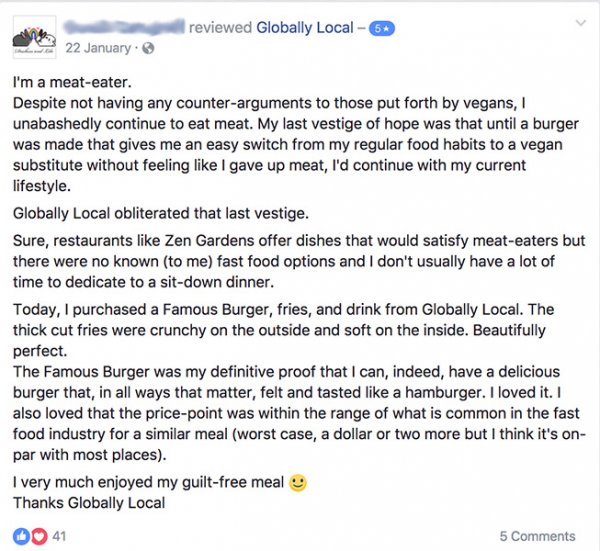 While Globally Local will be the first to feature a 24-hour drive-thru, several US vegan restaurants — including two locations of Vege-Way in Las Vegas and Plant Power Fast Food in San Diego — boast innovative takes on fast-food classics and serve them drive-thru style.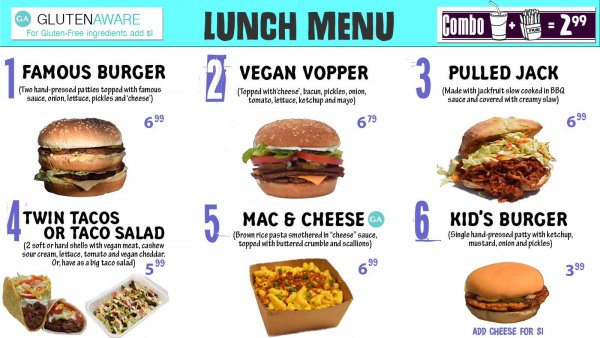 Meanwhile McDonald's has consistently reported falling profits while vegan-friendly fast food options are booming, and McDonald's former CEO Don Thompson joined the board of vegan startup Beyond Meat last year.
On the other side of the Atlantic in the UK, vegan food sales are up 1,500% and bacon sales have slumped by £123 million after being labelled a carcinogen by the World Health Organisation.
And several UK businesses recently ditched animal products after learning the reality of modern farming. Last year Google predicated a serious shift towards a plant-based future, and this is just the beginning.