Tia Blanco is certainly making waves in the surfing world. This year she defended her ISA World Champion title in the Women's Open category to take home gold for a consecutive year.
The International Surfing Association World Surfing Games held in Nicaragua saw competitors from 27 nations battling it out on the waves before Tia won outright.
Competitive Surfing, which will feature in the 2020 Olympics for the first time, is an incredibly tough sport that demands plenty of balance, agility, strength and nerve, and has the longest learning curve of any sport. As well as competing against each other, surfers also have to deal with the unpredictable nature of the ocean - every wave is different. For Tia this comes naturally, as she's been surfing since she was three years old.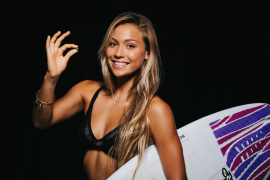 So how does Tia, a world-champion athlete, choose to power her body to ensure she stays in world-class shape?
"I eat a very clean plant based, vegan diet. I feel very strong and energised eating the way I do. I do most of my own cooking for myself and often for my family. Since they are all vegan it is very easy to experiment and try new things. I am very careful to make sure I am getting a good balance of proteins, good fats (yay coconut oil!) and vitamins."
Tia has been vegetarian since birth and vegan since 2013, and says her diet gives her an edge, better endurance, and reduced fatigue. Many vegan endurance athletes like Brendan Brazier (professional Ironman triathlete and two-time Canadian 50km Ultra Marathon Champion), Rich Roll (Ultra Endurance Athlete) also note how switching to a plant-based diet gave them more sustained energy and faster recovery.
But it's not only endurance athletes that are reaping the benefits. Patrik Baboumian (Germany's strongest man and holder of multiple world records in strength sports), David Carter (300lb NFL Defensive Lineman) and David Haye (2x World Champion Heavyweight Boxer), have all noted after going vegan they seem to recover faster after workouts. This may be because a nutrient-dense plant-based diet can better fight the effects of oxidative damage and inflammation than strenuous activity causes, allowing them to speed up recovery time and train more intensely.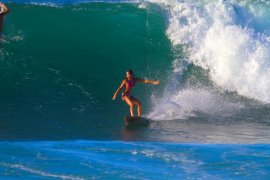 But Tia didn't just switch for the numerous health benefits. After watching documentaries showing the process of how meat arrives at the dinner table she was horrified and could no longer pay into that system.
"I did a lot of research about diet and saw what they did to animals on a documentary called, 'Behind Glass Walls'. I also read 'The China Study' and watched 'Forks Over Knives'. What I found was pretty horrific and informative at the same time. I knew from that point on I was going to switch to a vegan diet."
Tia is a truly inspiring athlete and an ambassador for Beyond Meat, a company set up with funding from Bill Gates to produce plant-based products replicating the taste and textures of meat. The company aims to eliminate the health, environmental and ethical downsides of the meat industry.
Travelling has presented some challenges to Tia, although she always manages so keep a good standard of food.
"I try to eat raw most of the time but sometimes when I travel it is very difficult because the availability of vegan food is very limited depending on where I am. So, sometimes I'm forced to eat a lot of foods like pasta, brown rice and bread."
She also makes sure to eat a lot of fruit, vegetables, beans, nuts, grains and legumes.
Other people often ask predictable questions such as 'where do you get your protein', and she's also had her share of pointless jokes, although she says "they haven't said anything that I haven't already heard before." Luckily she has a number of vegetarian friends among the surfers she knows.
As well as being a world-class champion surfer, she's also an amazing yogini.
Tia shares her delicious looking recipes on her Instagram page:
Amazing!
"I hope to make a difference in the world by sharing my diet and lifestyle".
Congratulations Tia on retaining your current title and being such an inspiring role model! We look forward to seeing you in the Olympics and appreciate all you do to promote a healthy, compassionate lifestyle!