In the UK a vegan organisation named 'Go-Vegan World' has been running an anti-dairy campaign with the slogan "Humane milk is a myth. Don't buy it".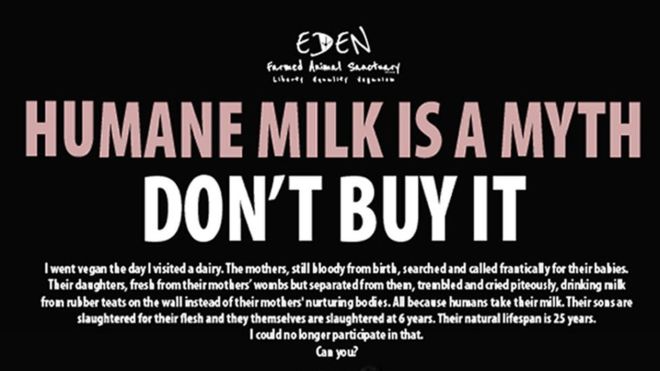 Smaller text underneath reads:
"I went vegan the day I visited a dairy. The mothers, still bloody from birth, searched and called frantically for their babies. Their daughters, fresh from their mothers' wombs but separated from them, trembled and cried piteously, drinking milk from rubber teats on the wall instead of their mothers' nurturing bodies. All because humans take their milk. Their sons are slaughtered for their flesh and they themselves are slaughtered at six years. Their natural lifespan is 25 years. I could no longer participate in that. Can you?"
Needless to say, this hasn't pleased the dairy industry, who have lodged seven different complaints with the Advertising Standards Authority (ASA) to have the advert removed.
However upon investigation the ASA couldn't find anything wrong with the advert and stated:
"Although the language used to express the claims was emotional and hard-hitting, we understand it is the case that calves are generally separated from their mothers very soon after birth, and we therefore concluded that the advert is unlikely to mislead readers."
Michael Oakes, National Farmer's Union National Dairy Board Chairman said he felt let down by the ASA - adding that he was 'angry and disappointed'.
This is another blow to the dairy industry that is seeing a serious decline in sales as more and more people turn to plant-based milks, whey-free protein powders, and work to eliminate dairy from their diets.
There is now a wide variety of plant-based milks available that are not only healthier than cow milk, but tastier, better for the environment and cruelty-free. The dairy industry is desperately trying to fight back as consumers become more aware of the barbaric dairy industry practices.
And it's not just individuals that are shifting away from dairy, but large companies are ditching dairy to make way for more improved products like nut, soy, rice and hemp milks, and restaurants, cafes and even ice cream parlours are also ditching dairy.
Switching to a plant-based milk is easy and healthier, with plant-based milks generally having a lower fat content, and no hormones.
Last month the ASA also banned an advert for organic cow's milk which attempted to label itself as "good for the land" and was ruled to be misleading as dairy is terrible for the environment. These rulings from the completely impartial Advertising Standards Authority in favor of the Go-Vegan World campaign further validates the ethical concerns around the production of dairy products.