Shares in Hong Kong-listed China Huishan Dairy Holdings crashed today, erasing about $4 billion from it's market value.
China Huishan operates the largest number of dairy farms in China with more than 190,000 cows, and sells a range of milk-derived products including yoghurt and infant formula.
According to CGTN news:
"The shares fell to as low as 0.25 HK dollars before edging back up to 0.42 HK dollars when trading was halted. Before today, Huishan Shares had posted narrow fluctuations between 2.69 HK dollars and 3.23 HK dollars since the start of October 2015. Officials for China Huishan were not available for comment."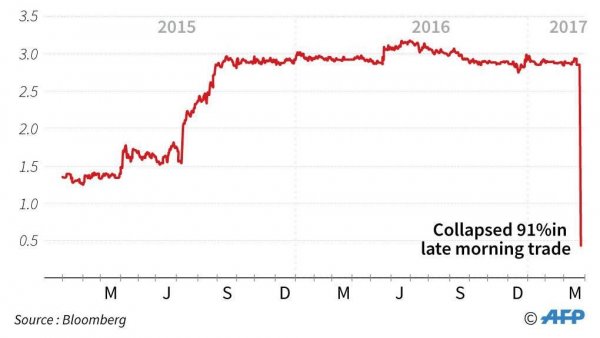 Whilst declining dairy sales certainly aren't helping the struggling industry it's not yet clear what exactly caused a crash of this magnitude.
However one trigger may have been a report in Chinese news portal Sina Finance, which cited unnamed sources saying that several Chinese banks had investigated Huishan following allegations that a shareholder embezzled Rmb 3BN ($440M) for investment in property, but the report did not provide any other details of the investor's identity.
This also reflects an on-going decline in the dairy industry (yes, dairy is even declining in China!) fuelled heavily by an increasing number of people ditching dairy. Recently a 90 year old dairy company closed it's cow milk business and switched to plant-based milk instead citing falling consumer demand, and a popular coffee shop in London ditched dairy, then went completely vegan after learning of the horrors of the dairy industry.
Due to the increasing popularity of plant-based milks, Starbucks finally launched Almond Milk in the UK this week and sports supplement company Muscle Milk recently launched a line of vegan protein shakes, and more people are ditching whey for plant-based protein powders than ever before.