A vegan powerlifting champion set a new Icelandic squat record last weekend when she squatted 205 kilos (452lb) at a bodyweight of just 76.8kg (169lb).
Hulda B. Waage already holds two national records in bench press and competed in the 84kg category to set this new record.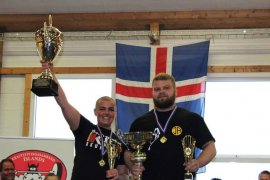 Speaking about the new record Hulda remains modest: "This is not the largest success of my life it was just part of the programme," also admitting that she was rather surprised at how well she did.
"I was pretty stressed out. I'm really happy but I could have done better."
During the same powerlifting competition held in Hafnarfjörður, Iceland on the 5th November she also bench-pressed 115kg (253lb) and deadlifted 180kg (397lb).
In a nation famous for it's strength athletes the 30 year old powerlifter has established herself as one of the best, and credits her vegan diet with playing a large role in her success.
"You can be strong without eating meat and animal byproducts. I've reached the age when the body produces more swelling. I believe my diet helps with [alleviating] this and I recover more quickly after practices."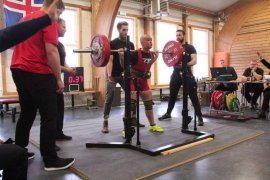 It was around the age of 15 when Hulda first started exploring veganism.
"When I was a teenager I read about it in a book. I got so fascinated that I told my mom that I was going vegan the day after. She was very helpful." For the next four years Hulda was vegetarian, mostly vegan.

"I felt I had to compromise when moving in with an ex-boyfriend and went pescatarian. Now little over two years I've been vegan."

"Two years ago I was watching videos on YouTube thinking about how I was going to lose weight after having my younger daughter. I went through videos of FullyRawKristina and watched [the documentary] Earthlings. Suddenly I remembered how much veganism meant to me and how I had blocked my feelings towards the meat, dairy and egg industry for all those years. No more! So in a week or so I went vegan."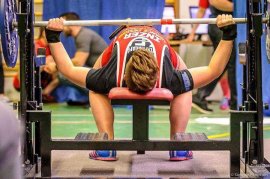 She's now fully committed:
"I eat completely vegan at all times; I would rather starve when travelling than eating something not vegan. But when travelling I always take something with me to make it easier. Like black bean pasta, hummus or dried beans and nuts. I take protein powder with me and often dried wheatgrass and chlorella."
Back at home her diet is simple and clean:
"I eat smoothies with peanut butter, all sorts of 'superfoods', tofu, chickpeas and curry, miso, nori and beets and I guess I drink a bit of coffee."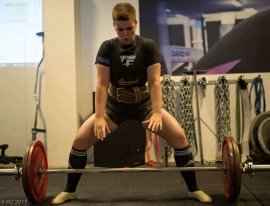 Not content with the national records she holds, Hulda has her sights firmly set on becoming a world champion powerlifter and is aiming to compete in the World Weightlifting Championships in 2023.
Congratulations Hulda! We hope your training continues to go well and enables you to continue the success and smashing stereotypes!