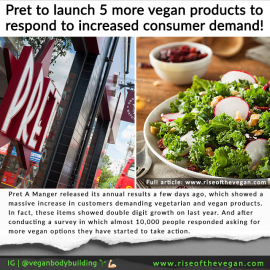 Great news for vegans as the fast-food chain Pret A Manger has responded to increasing demand for vegan cuisine by adding five more vegan specials to it's menu!
The new items being added, are:
Acai Breakfast Bowl, £2.49 (vegan) – a bright and colourful bowl of acai berries mixed with banana and layered with gluten-free granola, banana slices, grated apple and pomegranate. As well as being vegan-friendly, this breakfast bowl is also dairy-free and made without any gluten ingredients
Dairy-Free Bircher, £2.49 (vegan) – another dairy-free breakfast bowl, this bircher mix combines coconut yoghurt with granola, shredded apple and berry compote. The bircher is topped with fresh pomegranate seeds
Chana Chaat Flat Bread, £3.75 (vegan) – an Indian flat bread with chana chaat chick peas, mango compote, coconut yoghurt, red pepper, spinach and coriander
Mushroom & Avo Sushi Salad, £4.50 (vegan) – a salad based on the popular Hawaiian poke bowls; Pret's version includes marinated mushrooms, avocado, rice, pickled cabbage and poke dressing
Red Tapenade & Avo SuperBowl, £4.50 (vegan) – the newest addition to Pret's SuperBowl range, this vegan option includes chunks of avo, red tapenade, baby kale, tomatoes and seed mix on a bed of lentils and British quinoa
Pret A Manger released its annual results a few days ago, which showed a massive increase in customers interested in vegetarian and vegan products. In fact - these items showed double digit growth on last year.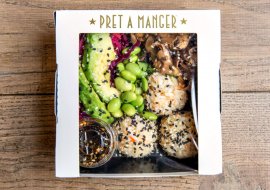 During 2015, Pret noticed an increasing interest in vegetarian products both in their stores and through social media. The company engaged its customers in a social media survey, asking how it could create more delicious vegetarian food. Almost 10,000 people voted on the subject and as a result Pret has pledged to both increase its vegetarian choices and convert one of their existing stores to be completely vegetarian. The store will sell a much wider range of their experimental vegan and vegetarian items during June in Soho (exact store location yet to be revealed). They will be carefully monitoring the sales to decide which items should become permanent items on their menu and rolled out across all their stores.
Not Just For Veggies
At the same time Pret has also just launched a new campaign called Not Just For Veggies, to show people that you don't have to be a vegetarian to enjoy vegetarian food. After all - chips are vegan and everyone loves them!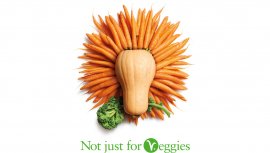 Avocados, in favour with health-conscious foodies and vegans alike (see our article: 10 reasons why you need more avocados in your life!), were the chain's fastest-growing ingredient during 2015. Sales of Pret lines containing avocado rose by 26%, with customers consuming over 5 million of them in salads and sandwiches last year!
The CEO Clive Schlee said the plans for the no-meat outlet had spurred Pret's chefs to come up with dozens more ideas, some of which could then be brought into the main chain. He said thousands of customers had told the company they were trying to eat less meat and almost 10,000 customers voted on social media on options for improving the chain's vegetarian range.
Clive said:
"People are thinking carefully about what lands in their stomach when they are eating and they are looking at vegetarian food"

"My theory is that we would all eat more vegetarian food if it was more readily available, more colourful and a better texture. For so long it has been the poor cousin and we are trying to bring it up to the rest of the family."
And with more and more restaurants adding delicious vegan dishes there's never been a better or easier time to go vegan!