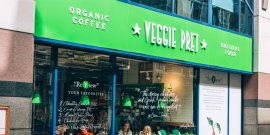 Great news! Veggie Pret, which opened it's doors in June was only supposed to be a summer pop-up experiment to trial new vegan and vegetarian recipes but the Veggie Pret experiment in Soho has been so successful that instead of closing it down after summer as was originally planned, Pret have now announced that they have decided to make it permanent and will additionally launch more Veggie Prets going forwards!
The CEO, Clive Schlee explains:
Twelve weeks ago, we opened Veggie Pret as a month-long pop up in Soho. We were so overwhelmed by the public response that we kept it open for the Summer. I can now tell you that we've taken the decision to keep it open for ever(!) And, if we can, to open more Veggie Pret shops in the future.

The reason is simple: we had expected sales in the shop to decline as a result of the pop up. After the massive hype of the first few weeks, sales at Veggie Pret are still well up on where they were before the conversion. It started out as an experiment in response to customer feedback and our customers have spoken loud and clear, so Veggie Pret is here to stay.

What is it about the shop that has struck such a chord? Clearly, the move towards a plant-based diet is gathering momentum, especially among millennials. Vegetarians and vegans are an articulate and social media-savvy group. Many of you have been advocating eating less meat for years and have been thrilled to see a major UK business take up the cause. We have had over 20,000 customer comments in the past twelve weeks and many of you have offered heartfelt thanks to Pret for making a bold move. Even Sir Paul McCartney emailed.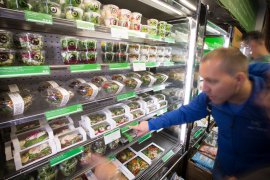 This is absolutely great news for the vegan movement! People are voting with their wallets and the success Pret has had will surely encourage more restaurants and chains to add more vegan options and make it easier and easier for people to transition to a vegan diet and make life much more convenient for existing vegans when out and about.
Pret are debating the location of their second Veggie Pret:
We are now debating where to open the second Veggie Pret. The odds are that it will be a visible corner in the City of London, where we can convert an existing shop to a pop up and see if it resonates with city workers before deciding whether or not to make it permanent. I hope we can bring Veggie Pret to more cities in due course.
Veggie Pret in numbers:
Nearly 10,000 customers voted in a poll last year to shape Pret's veggie offering
Veggie Pret was intended to be open for 1 month. It was extended through summer due to demand
Over 45 brand new vegetarian and vegan recipes were developed for Veggie Pret
The shop's sales were expected to drop 30% when it became veggie…they actually grew!
The top 8 best-selling products have been vegan-friendly
More than 50% of Veggie Pret customers say they eat meat regularly
Over 20,000 customer comments have been received telling Pret whether it has "Hit the Spot" or "Lost the Plot"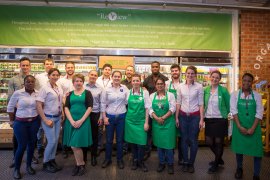 According to research by The Vegan Society the number of vegans in the UK has tripled to more than half a million in the last ten years.
Though over 50% of Veggie Pret's customers are actually regular meat eaters, vegan dishes and sweet desserts were the most popular items, with the Cacao & Orange Pot selling 'ten times' what was predicted.

The store was launched after 10,000 Pret customers voted in a poll to see more plant-based items on the menu last year.

Sales of vegetarian items at Pret grew by double-digits in 2015, with diners eating their way through five million avocados last year alone.