Breaking myths and shattering stereotypes, vegan athletes absolutely dominated in the 2017 Naturally Fit Games held in Texas last weekend. As well as one of the competitors setting a world record, vegan athletes won an impressive 32 medals across a range of sports, including bodybuilding, CrossFit, Olympic weightlifting, kettlebell and powerlifting - 22 of which were first place medals.
Over 1,000 competitors took part in the Games and 39 competitors were part of the non-profit team PlantBuilt.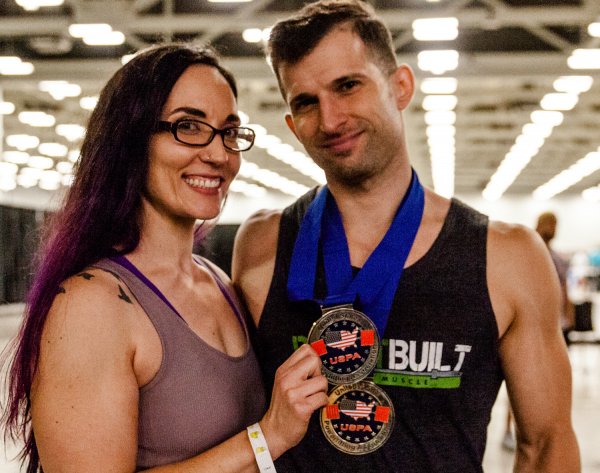 PlantBuilt Co-founders Dani Taylor and Giacomo Marchese (Photo credit: Jennifer Ramos)
PlantBuilt was founded by husband-and-wife team Giacomo Marchese and Dani Taylor in 2013 for the purpose of proving that consuming animal products is not necessary for building muscle and competing at a high level.
Giacomo himself walked away with two 1st place awards in powerlifting, while his wife Dani, a figure champion in the past, sat this competition out to coach other competitors on the team.
RiseOfTheVegan spoke with Giacomo and Dani about PlantBuilt's huge success.
RiseOfTheVegan: Congrats on the huge successes all around! What does the PlantBuilt community offer competitors?
GIACOMO: Our mission is to unite the vegan community and the mainstream fitness community at large. Leading by example, we aim to inspire the veg curious to make the switch to veganism and be a welcoming resource for all. Our small, but tight-knit core team acts likes a family, bonded to the cause and representing together as one, for life. This sentiment is contagious. And it offers a sense of camaraderie for vegan competitors worldwide. Our thoughts are that it will encourage individuals from around the globe to not be afraid to put themselves out there and represent for the animals who have no voice. Their lives depend on it.
RiseOfTheVegan: So how can a vegan athlete get involved and join PlantBuilt?
GIACOMO: While we have a select few that directly represent our core team of PlantBuilt athletes, we encourage and welcome others to share in our mission, by putting the PlantBuilt message out into the fitness world. As far as our teammates go, we do not have an application process as there are very few spots that are available. We begin to recruit around a year out (our next show is June 2019). We look for athletes who we feel will represent in the public selflessly and without ego. Putting the cause first and themselves second. We also look for those who want to compete with us for the long term as we continue to grow the PlantBuilt family. Each time we meet-up, we hope to add athletes from more countries and compete in an even wider variety of sports. For our 2019 team we aim to also compete in strongman and form a jujitsu team. Should that happen, we will begin recruiting in mid 2018.
"We are trying to prove that you can be muscular, strong and competitive without eating animals in that hopes that others may consider trying it themselves. It all comes down to the animals for us, and that definitely gives us an edge."
RiseOfTheVegan: What is it that gives vegan athletes the advantage when competing in these demanding sports?
DANI: The advantage that vegan athletes have over non-vegan athletes really comes down to passion. Almost every athlete who chooses to compete is passionate about their sport, vegan or not. But as vegans, we are competing for reasons bigger than earning an individual trophy. We are trying to prove that you can be muscular, strong and competitive without eating animals in that hopes that others may consider trying it themselves. It all comes down to the animals for us, and that definitely gives us an edge.
RiseOfTheVegan: So the next games are in 2019 - what are your plans for PlantBuilt for the future?
DANI: As we plan for 2019, the pressure to continue to perform is definitely present and we hope to rise to the challenge. In addition to the strength teams we already have, we would like to add a Strongman team and also possibly Jiu Jitsu as well. Although Austin has been PlantBuilt's home for many years, we would eventually also like to compete elsewhere as well - places where veganism is a bit more of a foreign concept.
One of the PlantBuilt team, Sara Lee, even set a new world record in the kettlebell event.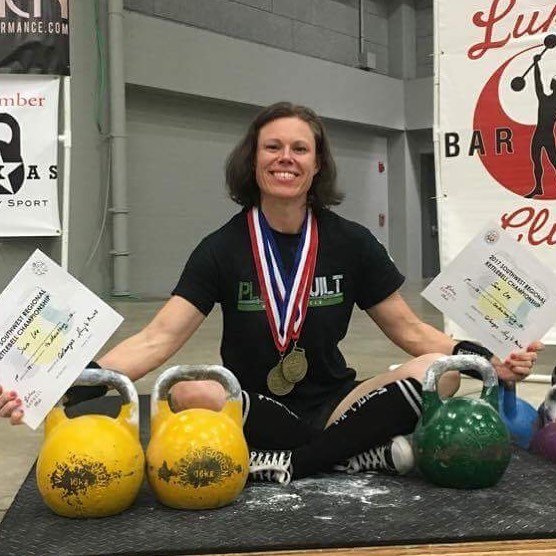 Sara Lee sets new kettlebell world record
On setting the world record Sara Lee said:
"There are so many things that we could never do for ourselves that become effortless out of love for someone else. This is the story of PlantBuilt. I have one vision: that more lifters will know they can be vegan and more vegans will know they can be lifters. And through that effort, there will be less suffering in the world, both human and animal."
And when asked about her motivations for switching to a vegan lifestyle Sara replied:
"Mamas shouldn't lose their babies. I can't honor the relationship between parent and child and do that to another mom. All animal products represent the loss of somebody's whole world. I also care about other related issues like the environment, world hunger, societal and domestic violence, and personal, global and mental health. The only way for me to live my values is to be vegan."
Korin Sutton, a natural bodybuilder from Florida won the overall men's bodybuilding title.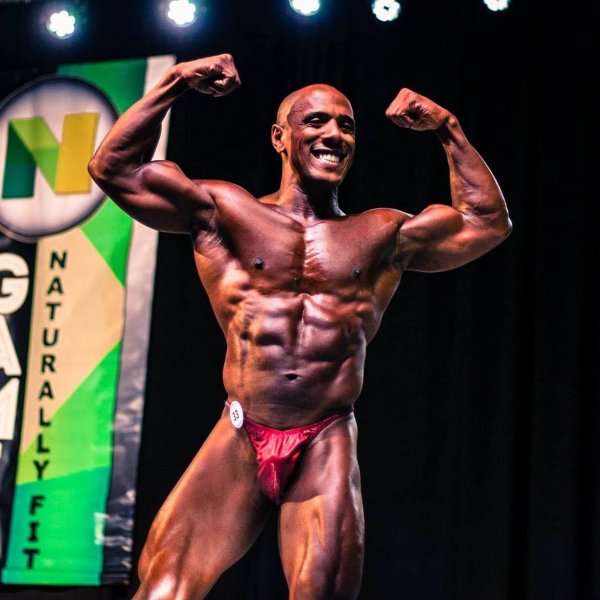 Korin Sutton wins overall men's bodybuilding title
Crystal Moulton, Sara Russert, and Ndem Nkem all brought home 1st place medals in powerlifting.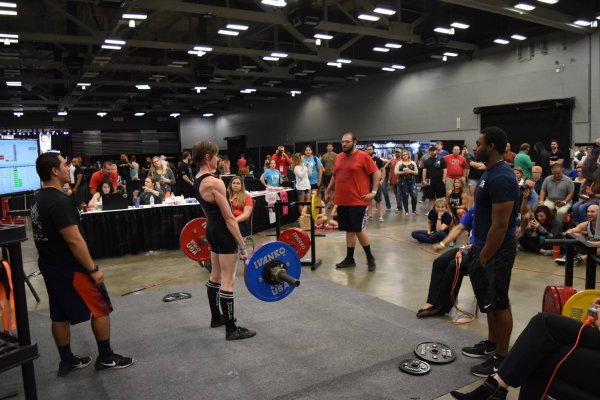 Crystal Moulton won 1st place in her powerlifting devision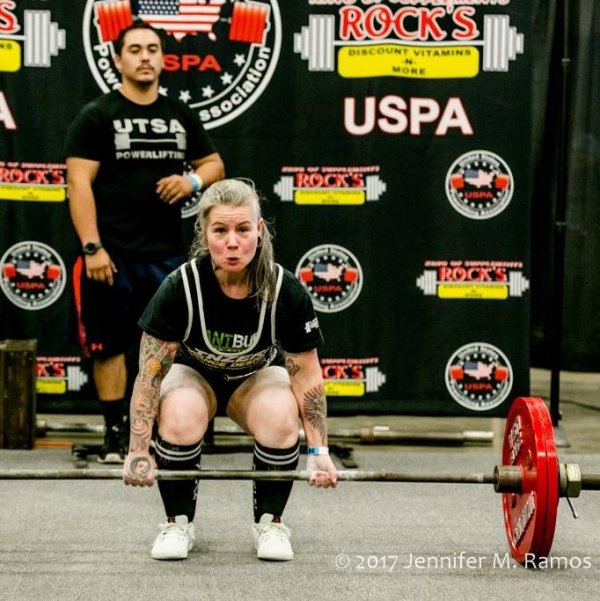 Sara Russert, who's previously competed in bodybuilding smashed the deadlift event and took home 1st place in her powerlifting devision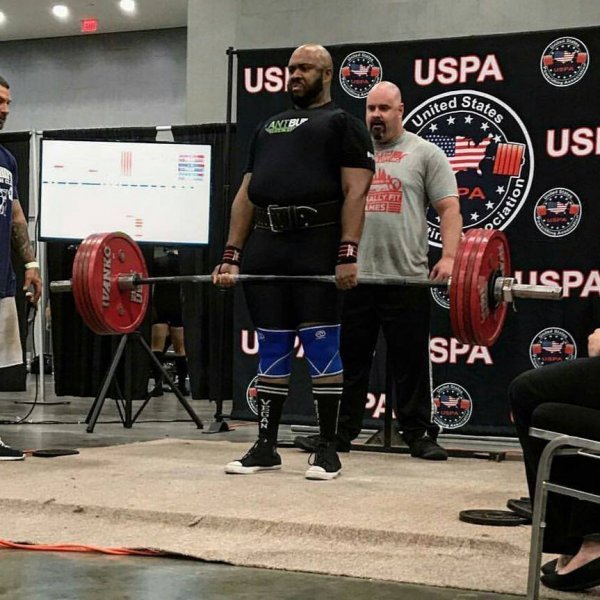 Ndem Nkem comfortably lifting a bar-bending 500lbs deadlift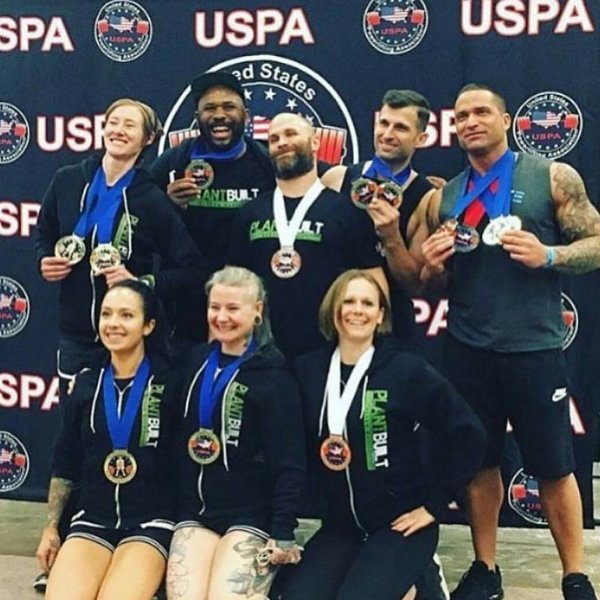 The powerlifting team were responsible for 13 of the medals won.
Forest Crosbie won the overall novice physique competition in his very first contest, and his training partner, Derek Tresize, came in 2nd in the Pro division.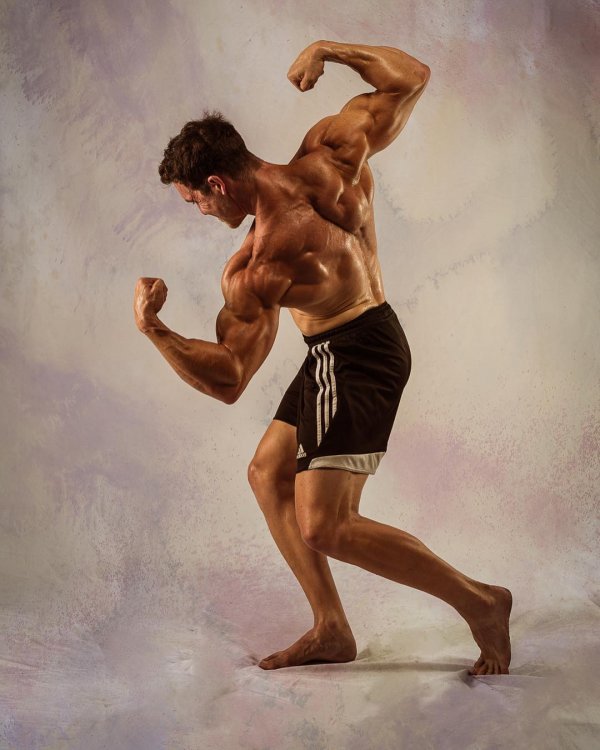 Derek Tresize shows off his impressive plant-built physique (Credit: Doc List Photography)
Simone Collins, who traveled all the way from Australia, won the open figure title for yet another 1st place award for team PlantBuilt, as the medals continued to pile up throughout the day.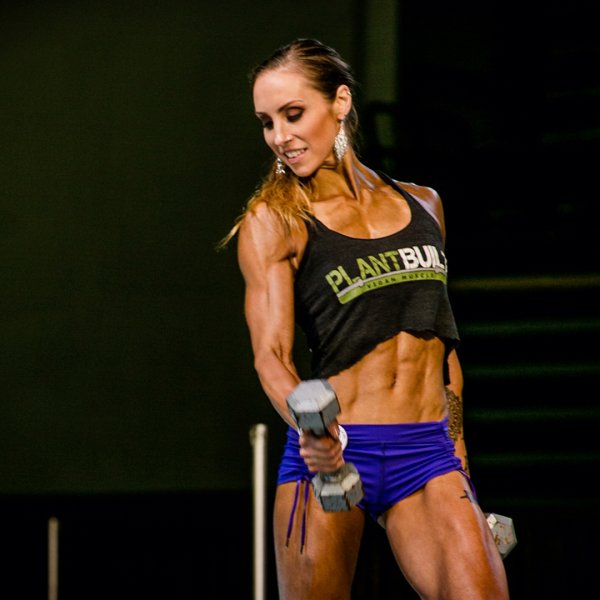 Simone Collins competing in the Athletic division (Credit: GeorgesPictures)
The next Naturally Fit Games will be in 2019.
Marchese hopes to add new members to the team and compete in a wider variety of sports including Strongman events and Jiu Jitsu.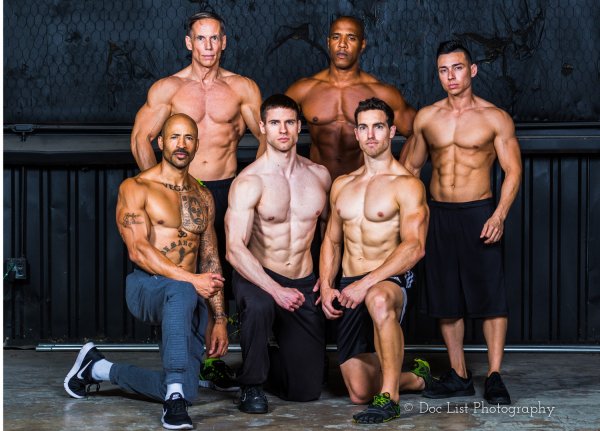 The men's bodybuilding team (Credit: Doc List Photography)
"People may chuckle at the little vegan team in the morning," Marchese says, "but by the evening, when we have shown what we can do, we have many people asking more about veganism and plant-based lifestyles."
To date, more than 100 athletes — from countries around the world including Singapore, New Zealand, Australia, Canada, Great Britain, and Germany — have competed with the PlantBuilt team and have raised $20,000 to support vegan outreach organizations, non-profits, and animal sanctuaries.
A plant-based diet has been shown to lower your risk of cancer, heart disease, kidney failure, diabetes, and is certainly not limiting to your athletic performance or health as these athletes clearly demonstrate.
Recently a study confirmed that plant-based protein is just as effective as building muscle as animal protein, and also comes without the negative health aspects of animal protein, such as the increased risk of cardiovascular diseases and cancer. The negative health consequences of animal protein are causing many athletes ditch animal protein and switch to plant-based protein.