After we broke the story about the London cafe who ditched dairy after watching a YouTube video, we've since heard from several other businesses who are also aiming to eliminate dairy from their menus.
We're currently assisting these businesses with phasing out dairy, and while they aren't able to switch overnight, they're repulsed by the dairy industry and are working hard to redesign their menus and supply lines to completely transition away from dairy as soon as they can.
The latest business to ditch dairy and go fully vegan is a UK-based ice cream shop which successfully completed their transition this week.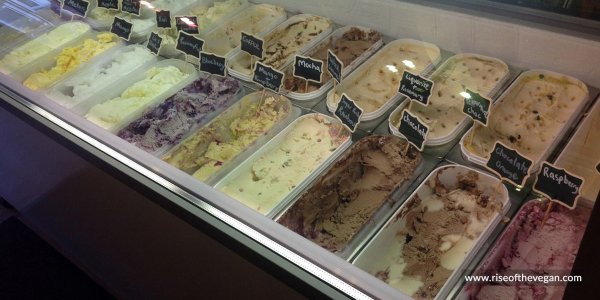 Ice Shack in Manchester re-opened with an entirely vegan menu offering an assortment of ice cream, milkshakes, baked goods, and truffles.
The owner, Az Ahmed, was a longtime vegetarian but after researching the dairy industry fully and subsequently going vegan he felt he couldn't continue to support the industry by selling dairy products to his customers.
RiseOfTheVegan.com spoke to Ahmed about his decision to eliminate all animal products from his menu.
"It still broke my heart knowing what happens in the dairy industry, and having to come to my own place of work and serve the dairy ice cream".
The date of April 4th to complete the transition was chosen because it's the 2 year anniversary of the date Ahmed and his wife adopted their daughter.
"My wife and I adopted our daughter two years ago today, and I want to know in my heart that I've done everything I can to make a better world."
Ahmed anticipated the transition would take years, but instead he gave up his holidays to develop 22 new vegan ice cream flavors, a variety of cakes and pastries, and more than 20 truffles in white, milk, and dark chocolate varieties (none of which contain any animal byproducts).
I knew I wanted the parlour to be 100% vegan but envisioned it would take a few years. We reduced our dairy products from 75% to 25% but it still broke my heart so I just thought let's just spend a load of time over Christmas and New Year making new products. I wanted both vegans and non-vegans to come in and say "WOW".

I think 22 ice cream flavours, 25 toppings, endless milkshake combinations, 10 cakes, 20 truffle flavours, 2 waffle types and 5 raw chocolate bars says a vegan diet doesn't have to be boring!
Additionally, the shop will serve an almond, soy, and oat-based milkshakes, sell five flavors of raw chocolate bars, and even offer vegan dog treats.
"We are not here to make a million or franchise out, we just want to make a difference in the very little way we can and have a positive impact with every being we share this earth with."
Ahmed continued:
I'd say 60% of my sales were dairy based so I'm not following where the money is - we want to follow our hearts and I'm so happy I'm where I want to be and proud of every aspect of my business. I wouldn't care if I went bankrupt next week - I'm happier living a simple life than exploiting other beings and be a millionaire.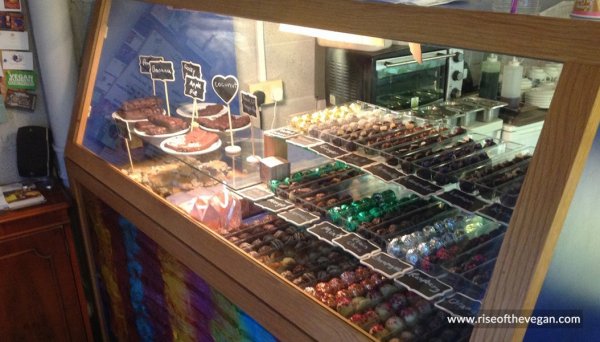 However we don't think Ahmed has much to worry about. Consumer concerns about the inherent cruelty involved in dairy industry are at an all time high and news of the negative health effects of milk are helping to fuel an explosion in sales of plant-based alternatives. When UK supermarket Sainsbury's recently launched their own vegan cheese, sales exceeded predictions by 300%.
In what could be the start of a plant-based revolution amongst small businesses Ice Shack joins the popular London cafe which recently ditched dairy and the London-based pizzeria which just eliminated meat and dairy from their menus, and on the other side of the Atlantic in New York a 90-year-old dairy giant completely ditched dairy last month and now sells a range of (fully vegan) plant-based milks instead.